PRO PHYSIO DANS LA COMMUNAUTÉ
Pro Physio est un partenaire actif dans la communauté. Que ce soit dans les nouvelles, sur le terrain ou aux levées de fonds, nous sommes fiers de travailler sur une variété de projets et d'initiatives. Lisez plus bas pour en savoir plus au sujet de nos projets communautaires !
PRO PHYSIO ET BALLET JORGEN CANADA
Notre physiothérapeute Saurabh Garg a donné un coup de main à l'équipe de Ballet Jorgen Canada avant leur spectacle au centre des arts Shenkman. Ce fut une performance à ne pas oublier !
Ottawa Magazine: Ottawa's first cryotherapy chamber offers help for hurt muscles
This is not normal.
That was my first thought as I stepped into the full body cryotherapy chamber, or CryoCabin, at the Pro Physio & Sport Medicine Centre in Kanata yesterday.
My next thought: This is so cool! I am so cool for trying this! Health experiments are cool!
Cool, indeed. Like, -130 Celsius cool.
The cabin is the first of its kind in Ottawa, and involves standing (or dancing around, in my case) naked in a nitrogen gas cooled cabin for up to three minutes— long enough for the surface of the skin to reach zero degrees Celsius. Your body then withdraws the blood from your extremities to your vital organs, restoring oxygen and increasing the blood's nutrients. Post­-treatment, the super-oxygen-enriched blood first flows to the areas most in need of repair, ostensibly healing sore or injured muscles.
The end result, from consistent use: reduced pain and inflammation, improved joint function and injury recovery, increased energy and stamina, improved immune response – even stress relief and weight loss (the process supposedly ramps up your metabolism, allowing you to burn up to 800 calories in the hours following your session).
The chambers were originally intended to treat certain medical conditions like arthritis, but athletes soon adopted the technology in hopes that subzero temperatures would help them to recover from strenuous workouts more rapidly. Think superstars like Lebron James and Christiano Renaldo, who I'm pretty sure are in better shape than I am, so maybe there's something to it.
As for the actual experience: It was very cold. You may be inclined to act tough during the two-three minutes you're being flash frozen, but I was shivering and breathing shallowly after a few seconds. It's not painful, and not nearly as terrible as jumping into an ice bath, but, well, put it this way: imagine the coldest Ottawa day on record, quadruple it, and then imagine you're wandering around outside naked.
Still, the feeling immediately after – invigorated, energized, refreshed – was real. As someone who works out a lot and usually suffers from sore, tight muscles, I can say that I felt less tight and sore than usual, and my friend who also tried it mentioned that she slept really well that night. I believe the effects become more pronounced when you use it regularly but I think it's fair to say that sometimes the best way to recover and feel good is just to chill out.
View the complete article here.
PRO PHYSIO ACADEMY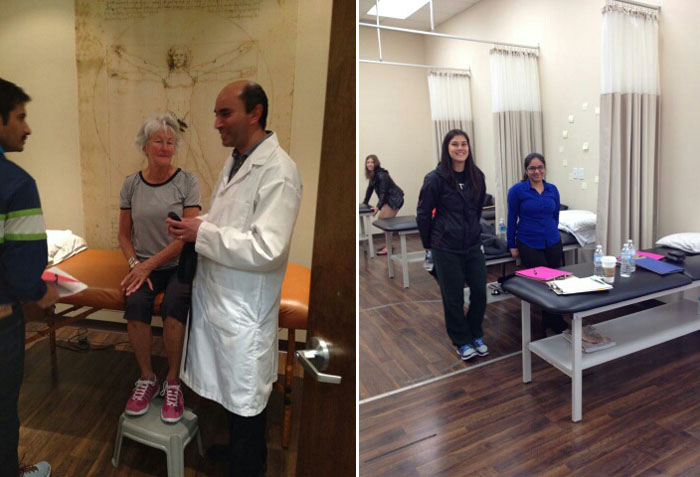 Pro Physio Academy hosted a Mock Exam for the Clinical Physiothérapie Competency Examination (PCE) on May 23, 2015 at their March Road location.
16 Physiothérapie Residents attended the mock exam which included 16 stations with Physiotherapist Examiners and volunteer patients. The exam started at 8am and finished at 5pm, with verbal and written feedback for each Resident on each of the 16 stations followed by a group discussion and final tips.
We are proud to announce that Pro Physio Academy is hosting a 10-week Clinical PCE Prep Course in Ottawa from July 25-Sept 26, 2015 for the November Clinical PCE.
LAP THE GATS 2015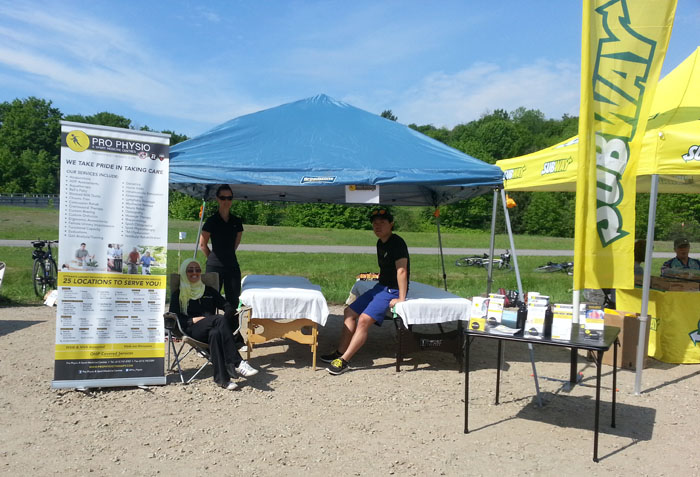 Pro Physio & Sport Medicine Centres was proud to support Lap the Gats, a charitable cycling event which took place on Saturday May 30th in Gatineau Park. The event was held to benefit Parkinson's disease research. The Pro Physio team provided treatments onsite for cyclists taking part. Last year, the event raised over $80,000!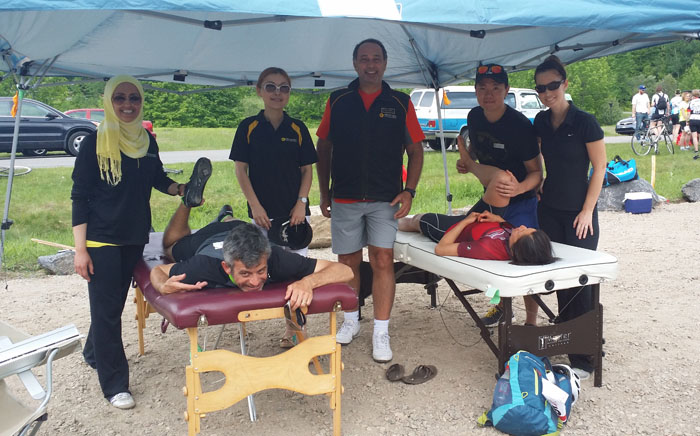 CN CYCLE FOR CHEO
Pro Physio is proud to support the CN Cycle for CHEO! As the hospital's largest pediatric cancer fundraising event, the CN Cycle for CHEO is a fun, non-competitive event that offers a wide range of cycling (15K, 35K, 70K) and walking (2K, 5K) routes for people of all ages and abilities.
Join in the fun on May 3, along Ottawa's most scenic corridors, including the scenic Sir John A. Macdonald and Aviation Parkways and the UNESCO World Heritage Site Rideau Canal with its renowned NCC tulip beds.
For more information, go to www.cncycle.ca.
DANNY NOLAN GOLF TOURNAMENT
Pro Physio was proud to support the Danny Nolan Golf Tournament in June of 2014. Over 100 golfers took part in the event, helping raise $10,000 for the Ottawa Regional Cancer Foundation and CHEO.
Over the past two years, the tournament has raised $21,500.00. This year the tournament will be held on June 14, 2015, at the Hammond Golf and Country Club.
Pro Physio & Sport Medicine Centres is a proud sponsor!
TEAM HOMAN WRAPS UP 2014-2015 SEASON
Rachel Homan and her curling team have completed a very successful 2014-15 season. Team Homan finished the year ranked third on the Canadian Team Ranking System, and second on the World Curling Tour Order of Merit.
This season, Team Homan won three tournaments including the TSN Pinty's Skins Game, and the TSN Continental Cup. Pro Physio & Sport Medicine Centres is proud to be the official physio provider for Team Homan. We wish them the best of luck in 2016!
K. MIKHAIL MEMORIAL SOCCER TOUNRAMENT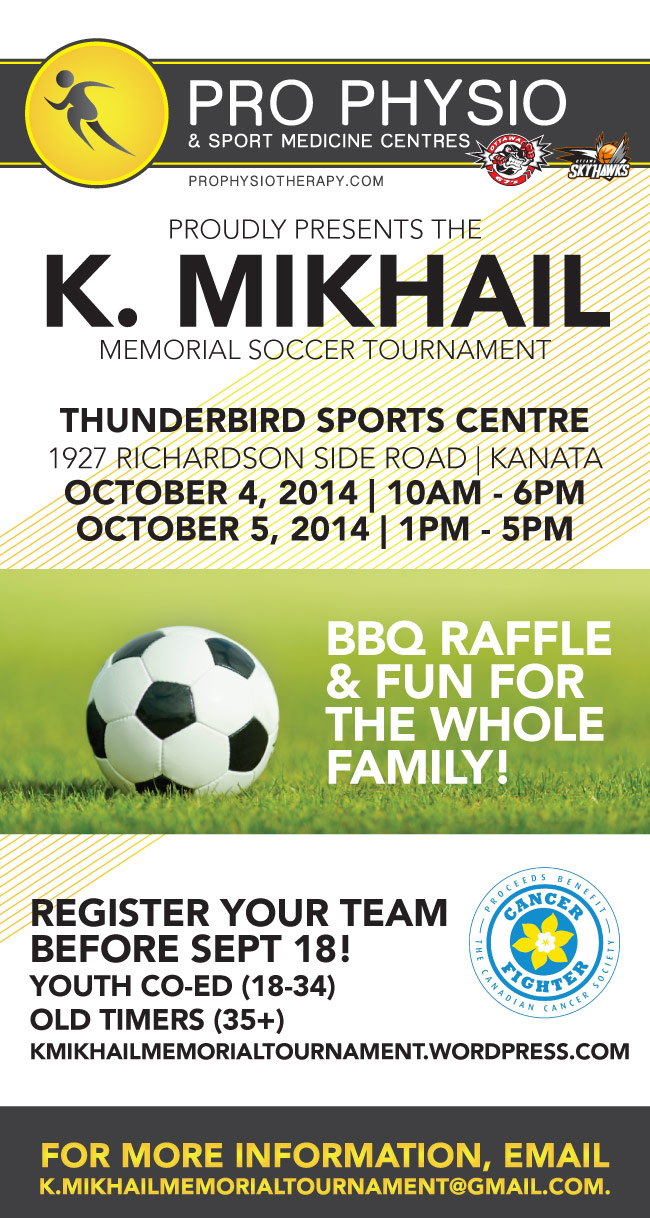 TEAM HOMAN WINS THE SCOTTIES!
Rachel Homan's Ottawa-based Canada team, proudly supported by Pro Physio & Sport Medicine Centres, defeated Val Sweeting's Alberta rink to win a second consecutive Scotties Tournament of Hearts in February. Team Homan defended the Canadian women's curling championship they won last year in Kingston, Ont., going 13-0. They are the first team since Linda Moore's rink in 1985 to go undefeated at the tournament.
Pro Physio is proud to support Team Homan... Congratulations on the win!
Ottawa's Team Homan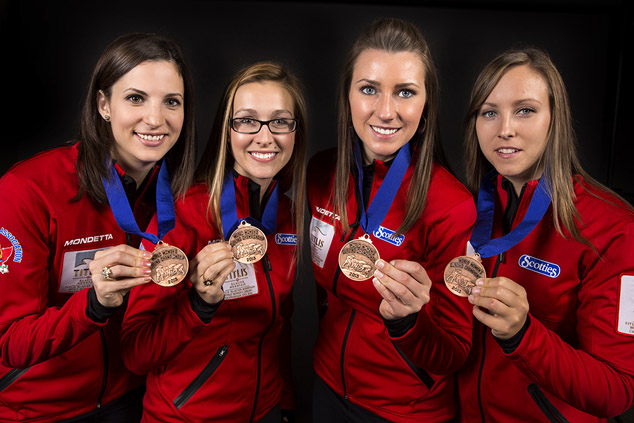 Team Homan is unstoppable! The 2013 Canadian Champion's and World Bronze Medalists recently competed in Switzerland, at the 2014 Bernese Ladies Cup!
As s proud supporter of Team Homan, Pro Physiothérapie & Sport Medicine Centres was thrilled to be part of this exciting journey!
Team Homan all the way!
Congratulations to Dr. Julie Peltz and Paul Colebrook from our Riverside Court location!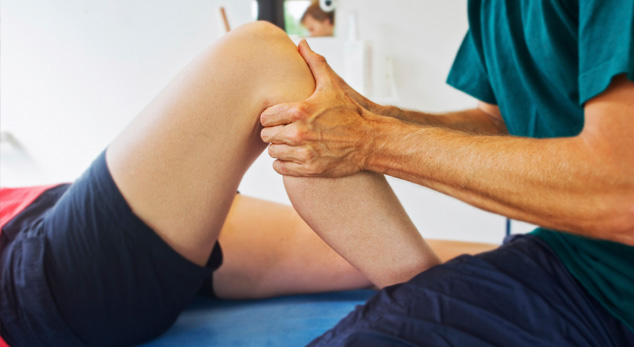 We would like to congratulate Dr. Julie Peltz and Paul Colebrook from our Riverside Court location for recently presenting an initiative to reduce the incidence of ACL injuries to over 100 ski coaches from the Ottawa region. Their program has been proven to reduce the risk of lower extremity injuries - acute, overuse and severe injuries including ACL tears.
These initiatives are further proof that Pro Physio really does take pride in taking care!
Ottawa's Team Homan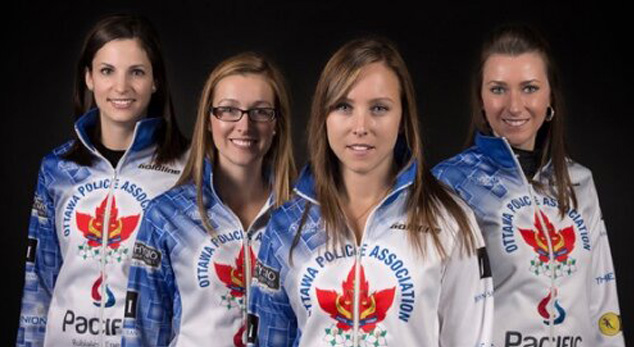 A huge congratulations to Ottawa's Team Homan, winners of the 2013 Grand Slam of Curling Masters! The competition was held from October 29 to November 3 in Abbotsford, BC, as part of the 2013–14 World Curling Tour.
Pro Physio & Sport Medicine Centres is a proud supporter of Team Homan!
Congratulations!
PARTNERSHIP WITH THE CANADIAN PHYSIOTHERAPY ASSOCIATION (CPA)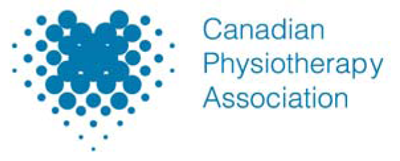 Pro Physio & Sport Medicine Centres is honoured to highlight its ongoing partnership with the Canadian Physiothérapie Association (CPA). Working together on the CPA's Risk Management pilot project, Pro Physio and its team of physiotherapists have joined forces with the CPA to provide resources to improve patient safety and reduce liability exposures. For more information, click here.
Did you know May was the National Physiothérapie Month in Canada?
NEW PARTNERSHIP: OTTAWA TENNIS & LAWN BOWLING CLUB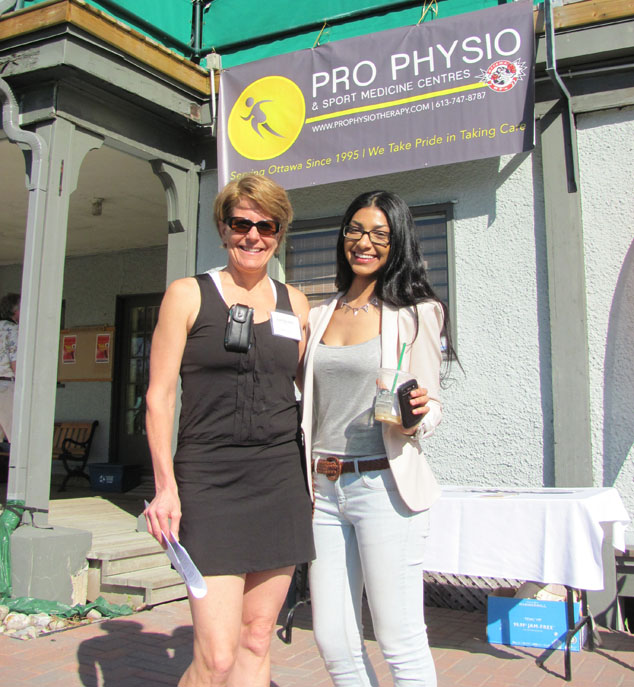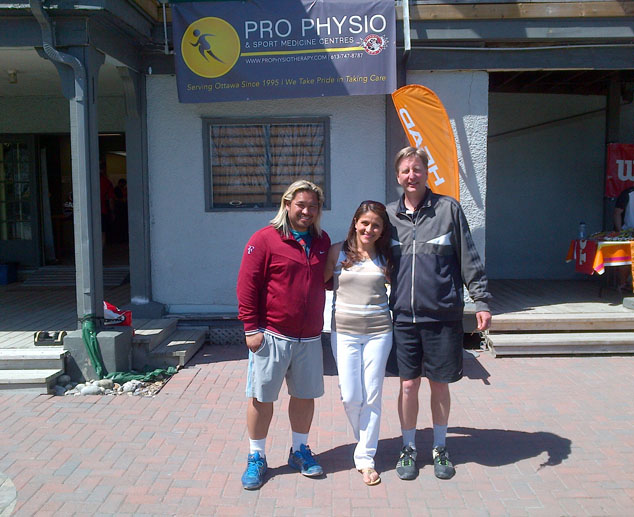 Pro Physio & Sport Medicine Centres is very excited to announce its new partnership with the Ottawa Tennis and Lawn Bowling Club! For over 130 years, the OTLBC has been celebrated for its beautiful facilities, and rich sports history. Pro Physio took part in the Club's official season kick-off in May, joining club members and partners in celebrating the OTLBC.
Want to learn more about the OTLBC? Visit www.otlbc.com! We look forward to a great year!
Child Haven International
Pro Physio & Sport Medicine Centres was very pleased to support Child Haven International's Ottawa/Glebe Charity Soiree, on April 27. The event was in support of Child Haven International, assisting children and women in developing countries, who are in need of food, education, health care, shelter and clothing, emotional and moral support.
Thank you to all who attended!
MAX KEEPING BOWLATHON
Pro Physio & Sport Medicine Centres was proud to sponsor this year's Max Keeping Bowlathon! With the help of some 400 bowlers of all ages and abilities, this fundraising extravaganza raised a record-setting $103,000 to help low income kids access sports, recreation, the arts and educational programs!
On hand to help with the festivities were Wendy Daniels (106.9 The Bear), JJ Clarke (CTV), Brent Corbeil and Michelle Cruise (BOOM 99.7), along with Mayor Jim Watson and several Councillors, Ontario Labour Minister Yasir Navqi, Nepean-Carleton MPP Lisa MacLeod, local celebrities, all the bowlers and volunteers.
Thank you to everyone who took part!
A Night at the Races
Pro Physio & Sport Medicine Centres was delighted to support A NIGHT AT THE RACES, in partnership with the University of Guelph Kemptville Campus. Proceeds from the event, held at Rideau Carleton Raceway, go directly back into the Equine Event Management program to support specialized learning experiences.
PRO PHYSIO LENDS A HAND TO THE SENS FOUNDATION!
Pro Physio & Sport Medicine Centres was proud to support the Ferguslea Sens Soiree in February. We are pleased to share that the silent and live auction raising over $91,000. This amount contributed to the $255,000 total raised throughout the evening. These funds will support the ongoing and local work of the Sens Foundation and their initiatives with youth mental health and addictions, pediatric healthcare programs and outdoor community rink construction projects.
OTTAWA 67S CELEBRATE ANNUAL PRO PHYSIO NIGHT!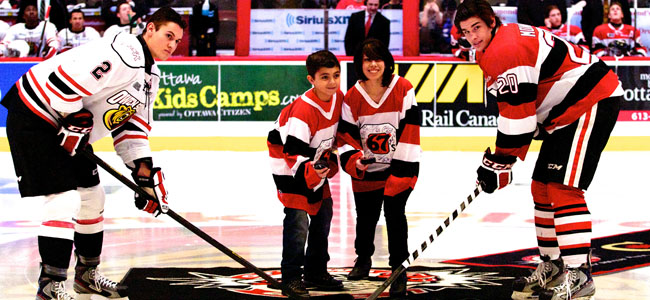 Pro Physio & Sport Medicine Centres were honoured with their annual 67s game at Scotiabank Place. Pro Physio partner, MK Antonious, dropped the puck for the ceremonial face-off.
Pro Physio lends a hand to the children of our community
Pro Physio & Sport Medicine Centres was proud to support the Forward Family Shelter over the Holiday season, with a donation of gifts to children in need. The Forward Family Shelter, managed by the City of Ottawa, provides emergency shelter and a supportive environment to homeless families or individuals, as well as assistance in obtaining appropriate housing. With the support of Pro Physio, a number of children and their families enjoyed a happy and memorable Christmas Day.
We look forward to a continued partnership in 2013. Pro Physio... Taking pride in our community since 1995!
Running Room Workshops
February 2, 2013, Shawn Main, Physiotherapist from Pro Physio Louis Riel Dome, did another presentation on The Biomechanics of Running at the Orleans Running Room. This educational session was held for the Learn-To-Run group and it emphasized the importance of proper mechanics and how it canoptimize your performance. He also provided tips on how to correct and improve arunner's biomechanics. If you would like a personalized one-on-one Running Assessment on the indoor track at the Pro Physio Louis Riel Dome, please contact the clinic at 613-837-4448 to book your assessment.
Programme of McKenzie Certification in Mechanical Diagnosis & Therapy (MDT)
The MDT Program of Certification consists of comprehensive post-grad course work to best prepare the student for the Credentialing Examination –the primary level of MDT Certification.
From June 21 to 23, 2013, Pro Physio March Road will host the course on Lumbar Spine Mechanical Diagnosis & Therapy. For more information, or to register, please click here.
From November 29 to December 1, 2013, Pro Physio is home to the course on The Cervical and Thoracic Spine Mechanical Diagnosis & Therapy. Please click here for more information.
Pro Physio & Sport Medicine Centres is at the forefront of the industry.
We Take Pride in Taking Care!
First Place OPTIONS Fundraiser (Oct 2012)
First Place OPTIONS is a non-profit organization, dedicated to offering compassionate support and assistance to anyone facing an unplanned pregnancy. We offer a wide array of services, including free pregnancy tests, options information sessions, pregnancy support, post abortion support and birth parent support to a diverse group of individuals in our community.
Pro Physio & Sport Medicine Centres is a proud partner!
Walk to End Women's Cancers (Sept 2012)
The Weekend to End Women's Cancers™ benefiting The Campbell Family Institute at The Princess Margaret Hospital is a Weekend you'll never forget. It's a Weekend to remember those lives we have lost to breast or gynecologic cancer and a Weekend to celebrate the lives we are saving. This is a Weekend creating hope for every woman's future. Pro Physio & Sport Medicine Centres is a proud partner!
Children's Aid Foundation of Ottawa (May 2012)
9th Annual SALUT! Dinner & Wine Tasting
Pro Physio & Sport Medicine Centres was proud to support this event in May. The inspiring dinner and wine tasting event raised funds for enrichment and education programs that are provided to children and young adults in the care of the Children's Aid Society of Ottawa. Net proceeds from the event will be used to support these programs and allow children and young adults to pursue their dreams, achieve their full potential and break the cycle of abuse and neglect.
Alive to Strive Kidney Fitness Project (May 2012)
The Alive to Strive Kidney Fitness Project is a non-profit organization committed to education and public awareness about issues surrounding chronic kidney disease and its prevention. The organization also operates a fitness and weight loss grant program benefiting those living with chronic kidney disease and hosts an annual run to raise awareness of kidney health and support related services and research.
With many dialysis patients living relatively sedentary lives, Alive to Strive's grant and race programs help patients set and reach customized fitness goals, while connecting with others.
Mark Sunday, April 28, 2013, on your calendar and start training for next year's bigger and better Alive to Strive Race! Learn more about the project at www.alivetostrive.ca.
Neonatal Intensive Care Unit (NICU) Fundraiser
Ottawa Hospital, General Campus
Pro Physio & Sport Medicine Centres was proud to support the family of a young baby born 10 weeks premature. The Neonatal Intensive Care Unit has a multidisciplinary team of health professionals at the Ottawa Hospital, General Campus. While each team member has his or her own area of expertise, all share a common goal—to ensure the highest quality care for our patients and their families. The high-tech environment of the NICU can be very frightening and overwhelming for parents. Therefore, as part of their philosophy, they recognize the family's fundamental right to be involved in treatment decisions and regimens, acknowledging and recognizing individual and family needs, expectations and cultural beliefs.
Canadian Sports Centre Accreditation
Pro Physio Riverside Court is accredited by the Canadian Sports Centre of Ontario and treats national level athletes.
Paul Colebrook Bsc.PT FCAMT CAFCI works at Pro Physio Riverside Court Centre and is a member of the team of physiotherapists for the Canadian National Canoe and Kayak team.
World Junior Hockey Championship Ottawa
Click here for Chris' acceptance letter to volunteer for the World Junior Championship in Ottawa.
Noble Tennis School & Arthur Cuenco
Arthur Cuenco, a Registered Physiotherapist, has been with Pro Physio & Sport Medicine Centres for 9 years, and is Clinical Manager of the Merivale Location. He is also a Certified Club Pro 2 and Coach 2 Candidate with Tennis Canada, a Tennis Professional with United States Professional Tennis Registry (USPTR), and a Wheelchair Tennis Certified Coach. He is a Tennis Professional at the Ottawa Athletic Club and has coached National Level Players. He was also a Varsity Player at the University of Ottawa.
He is the official Physiotherapist for the Noble Tennis School, a National Tennis Development Centre. He is the Athleticism Coach for the Master Path Program. In addition, he facilitates the Tennis Canada Instructor Course and is heavily involved in the grass roots program for Junior Development.
He organizes Tennis Programs for various community clubs and also runs Summer Tennis Camps at the Mt Ste Marie Tennis Club. He is also a consultant for the City of Ottawa.
Arthur is a Certified Cardio Tennis Instructor and runs these heart-pumping sessions at a select number of clubs in Ottawa.
Arthur is also a Certified Technique de détente active (ART) (ART) Provider.
For more information please contact him at professional.tennis@gmail.com
CTV Morning Ottawa
Jonathan Daniels shares some summer fitness tips on CTV Morning Ottawa!
FC Capital United & Mini World Cup (July 2012)
Pro Physio & Sport Medicine Centres loves soccer! In July, we were proud to support FC Capital United and the Mini World Cup. The event is a soccer tournament for U10 and U11 boys, with a total of 32 teams. It is played in Ottawa, yet mirrors the FIFA event for that year in every conceivable way. It is a celebration of soccer culture, competition and excellence.
The Vagina Monologues (Feb 2012)
This benefit production of Eve Ensler's The Vagina Monologues raised money for the Sexual Assault Support Centre of Ottawa, Minwaashin Lodge, and the Women and Girls of Haiti. Over 1500 guests attended the event, and Pro Physio & Sport Medicine Centres was a proud sponsor!
Youth National Track and Field Championships (2010-2012)
The Youth National Track and Field Championships were hosted by the Ottawa Lions Track and Field Club at the newly renovated Terry Fox Athletic Facility at Mooney's bay in August 2010 and 2011. The yearly event show cased the best 14-17 year old track and field stars from across the country. In 2010, Shawn Main, a physiotherapist at Pro Physio Louis-Riel, was part of the medical team that provided first aide and medical care to all of the athletes. In 2011, Shawn was asked to co-organize the medical coverage for the event to ensure that all 700+ athletes, coaches and support staff were properly taken care of. The event was a great success and the organizing committee received many compliments. The event now moves out east to Prince Edward Island as it is on a 2 year rotation in cities across the country.
National Capital Fit Day (Nov 2011)
We were proud to present the very first National Capital Fit Day, an event, which will featured many fitness events held together at one location on one day, hundreds of athletes competed in 1 of 5 events, including running, cycling, bodybuilding, grappling tournament, and wife carrying competition.
See you in 2012!
Ottawa Fusion Volleyball Club
Pro Physio & Sport Medicine Centres is a proud sponsor of the Ottawa Fusion Volleyball Club! The Ottawa Fusion Volleyball Club is dedicated to providing opportunities for personal growth, development and achievement of excellence through the sport of volleyball.
Visit www.ottawafusion.ca.
A Night at the Races (2010-2012)
Pro Physio & Sport Medicine Centres was proud to sponsor "A Night at the Races", benefiting the National Capital Skin Disease Foundation, of which Dr. Jim Walker (Dermatologist) is the Chair. Great times were had by all!
Shad Ireland Kidney Run
Pro Physio & Sport Medicine Centres provided first-aid and massage coverage for the Shad Ireland 1km, 5km and 10km runs held at the Terry Fox Athletic Complex. Over 500 runners took part, raising awareness and funds for Diabetes Canada, The Kidney Foundation as well as the Kidney Research Foundation.
"Teal" Fridays in Support of our staff!
The Pro Physio team was proud to wear 'teal' in support of a staff member battling cervical cancer last year. Shirts were $10, with all funds donated in August. Not only do we take pride in our community… we take pride in our team!
Nepean Redskins Football Club
Martin Trudel (Sport Physiotherapist and Clinical Manager at Pro Physio Clyde Avenue) worked with team players and parents, speaking about the best fitness practices, and how to best warm-up for the big game, and prevent injury. Have a great season, Redskins!
Purolator Health Day (May 2011)
Purolator joined forces with Pro Physio & Sport Medicine Centres last year as part of their health and safety awareness week campaign, during which they had health care professionals, gym reps and others, provide literature and advice on health care. Working together for a healthy and active community!
Pro Physio & The Running Room!
Over the last two years, Shawn Main has spoken numerous times at the Orleans Running Room location, speaking to the walking, learn to run, 5km run, 10km run and marathon groups. He has covered the topics of stretching, injury prevention, as well as the biomechanics of walking and running. Shawn's clinical experience and expertise working with a wide variety of runners ranging from recreational to National level, allows him to provide up to date and accurate clinical and practical information to the runners.
Alive to Strive Walk/Run
Pro Physio & Sport Medicine Centres is proud to have been involved with the Alive to Strive walk/run since its inception in 2010. The foundation, started by Marie-Eve Chainey, a provincial level high jumper and kidney patient herself, raises money and awareness for Kidney and Diabetes disease and research in the Ottawa area. The third annual race was in May, with an even greater number of runners taking part. For more information, visit www.alivetostrive.ca.
See you in 2013!
Terry Fox Run
Pro Physio & Sport Medicine Centres were proud to support this year's Terry Fox Run, an annual non-competitive charity event held in numerous regions around the world in commemoration of Canadian cancer activist Terry Fox, and his Marathon of Hope, and to raise money for cancer research.
For more information on the Terry Fox Run, please click here.