Pro Physio & Sport Medicine Centres is committed to providing a respectful, welcoming, accessible, and inclusive environment in the provision of goods and services for both customers/clients and employees alike. Please read below for our accessibility policy, as well as our clients' Charter of Rights.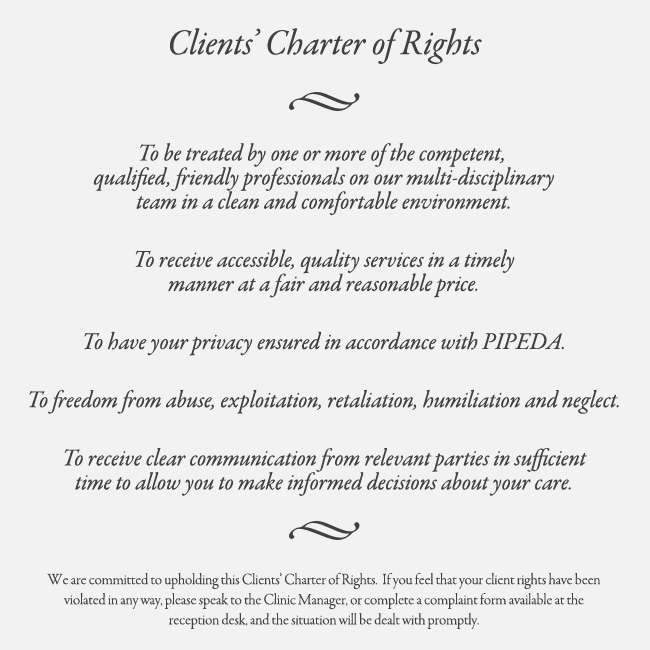 ACCESSIBLE CUSTOMER SERVICE PLAN
Providing Goods and Services to People with Disabilities
Pro Physio and Sport Medicine Centres is committed to excellence in serving all customers including people with disabilities.
Assistive devices
We will ensure that our staff are trained and familiar with various assistive devices we have on site or that we provide, that may be used by customers with disabilities while accessing our goods or services.
Communication
We will communicate with people with disabilities in ways that take into account their disability.
Service animals
We welcome people with disabilities and their service animals. Service animals are allowed on the parts of our premises that are open to the public.
Support persons
A person with a disability who is accompanied by a support person will be allowed to have that person accompany them on our premises.
Fees will not be charged for support persons.
Notice of temporary disruption
In the event of a planned or unexpected disruption to services or facilities for customers with disabilities, Pro Physio and Sport Medicine Centres will notify customers promptly. This clearly posted notice will include information about the reason for the disruption, its anticipated length of time, and a description of alternative facilities or services, if available.
The notice will be placed at the clinic entrance.
Training
Pro Physio and Sport Medicine Centres will provide training to employees, volunteers and others who deal with the public or other third parties on our behalf. This training will be provided to staff on employment.
Training will include:
• An overview of the Accessibility for Ontarians with Disabilities Act, 2005 and the requirements of the customer service standard's plan related to the customer service standard.
• How to interact and communicate with people with various types of disabilities
• How to interact with people with disabilities who use an assistive device or require the assistance of a service animal or a support person
• How to use devices available on-site or otherwise that may help with providing goods or services to people with disabilities
• What to do if a person with a disability is having difficulty in accessing our clinics
Staff will also be trained when changes are made to the plan.
Feedback process
Customers who wish to provide feedback on the way Pro Physio and Sport Medicine Centres provides goods and services to people with disabilities can provide written or verbal feedback to the Clinic Manager or to Pro Physio Head Office.
All feedback, including complaints, will be responded to within 3 business days and customers can expect to hear back from the Clinic Manager or representative of Head Office.
Modifications to this or other policies
Any policy of Pro Physio and Sport Medicine Centres that does not respect and promote the dignity and independence of people with disabilities will be modified or removed.
RIGHTS OF THE PERSON SERVED

All clients have rights that must be respected. Persons entering Pro Physio programs will be informed of their rights with the expectation that observance of these rights will contribute to more effective care and greater satisfaction for the client, treatment team, and referral source.
Procedure
1. The client has the right to be treated with respect and dignity at all times.
2. Treatment teams must, at all times, be aware of the rights of the client.
3. The client has the right:
3.1 To participate in developing an individual plan of treatment.
3.2 To receive an explanation of services in accordance with the treatment plan.
3.3 To participate voluntarily in and to consent to treatment.
3.4 To object to, withdraw from or to terminate treatment.
3.5 To have records protected by confidentiality and not be revealed to anyone other than the names indicated on the consent to release of information form. PPC will ask the client to put the referral source on the consent to release of information form. If the client does not want information released to the referral source then the referral source must be contacted immediately to be informed of this.
3.6 To have access to one's records.
3.7 To receive clinically appropriate care and treatment that is suited to their needs and skillfully, safely, and humanely administered with full respect for their dignity and personal integrity.
3.8 To be treated in a manner, which is ethical and free from abuse, discrimination, mistreatment, and/or exploitation.
3.9 To be afforded privacy when appropriate to the situation.
3.10 To be free to report a complaint regarding services or staff to a supervisor.
3.11 To be informed of expected results of all therapies prescribed